Google is one of the biggest companies in the world and the most popular search engine by far. Almost everyone would prefer Google as their favorite and most convenient search engine. This is surely bad for other websites because they get very less traffic due to this. That's because when a search engine gets traffic, it generates income from advertisers. More traffic means more revenue.
Since smaller search engines know that most people prefer Google. Google's success means that other competing search engines have to put in extra efforts to get users to make the switch to their site, which is why some search engines will pay you for the searches you were going to do anyway if you use their search engine to do so. So, to attract new users, they become willing to pay a little bit to encourage activity on their platforms.
Another reason companies might pay you to search the web is for market research. This is usually through apps or programs that run in the background and collect information on your searches to sell to advertising companies. Advertisers can then use this data to create targeted ads for different demographics, which is why we often see ads for things online that seem like they were made for you.
Who Is A Google Rater?
Google Raters also known as Search Engine Evaluators evaluate search results, mostly web pages, videos, images, maps, etc, and see how helpful or useful they are to the queries issued by the user and rate them as per a set of given parameters outlined in the General Guidelines.
General Guidelines are like the key for raters. It is a 176-page pdf file that each rater will have to peruse, use to pass the qualification test, and then reference daily to evaluate the tasks after hitting production
Eligibility To Become A Google Rater
You must be fluent in written and verbal English or the language in which this position is available in your country.
You must be living in your country for the last 5 consecutive years.
You must own and use a smartphone. The majority of the task types will require both a desktop/laptop and a smartphone. Access to and use of a broadband internet connection and associated computer and software to perform the work, all provided at your own expense.
Gmail must be your primary email account and be an active daily user of Gmail and other forms of social media.
You must have familiarity with current and historical business, media, sport, news, social media, and cultural affairs in India.
Experience in the use of web browsers to navigate and interact with a variety of online content.
A Payoneer account is amust too receive payments
Here Are The Best Companies For Google Rater Jobs
1.

Appen
Appen Connect is a company based in Pleasanton, California. It was previously known as Leapforce before its acquisition by Appen. It has since been re-branded as Appen Connect.
Apart from evaluator positions they hire for multiple projects like social media evaluation, surveys, smart speakers projects, transcription, and so on. Their main and oldest project is the evaluator/rater project.
If you want to work as an evaluator or rater, you should be signing up with Appen Connect and not with Appen which is the parent company.
Visit Here>>> Visit Now
2.

Lionbridge
This is an MNC based in Waltham, Massachusetts that has 6000+ employees.
It hires thousands of independent contractors from all over the world.
They hire for various positions including the evaluator positions.
View Here>>> View Now
3.

iSoftstone (teemwork.ai)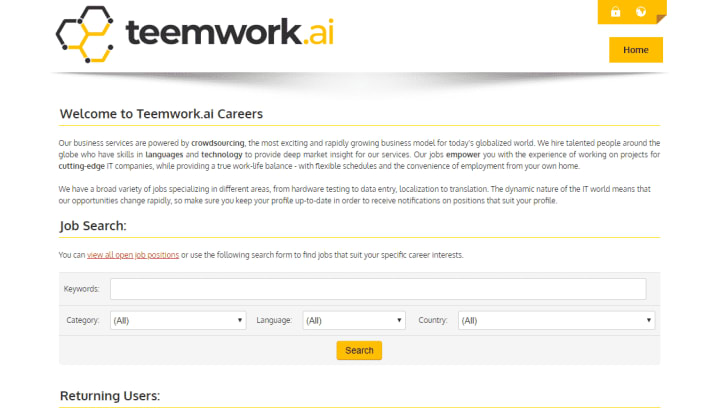 This US-based company has offices located in New York, Waltham, MA, and also in Kirkland, WA. They have over 6000+ employees and hire thousands of independent contractors from around the world.
One thing to note is that they have been re-branded as Teemwork.AI as is visible from the sign-up page above.
Their primary client is Microsoft and they hire for web search evaluation positions and online ads evaluation positions as well.
Visit Here>>> Visit Now